Character education focused on improving social coexistence and reducing risk behaviors in adolescents
25 experts participate in a workshop that the University organized at the Panamerican University (Campus Mexico)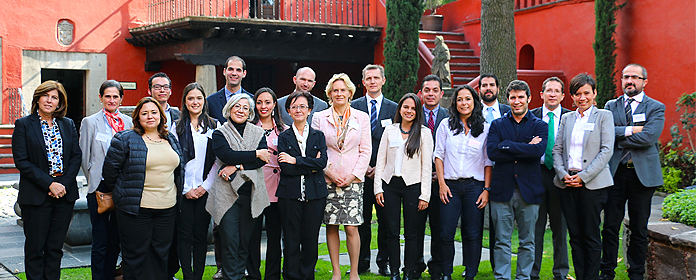 The II International Workshop organized by the Researching and Promoting Character Education in Latin American Secondary Schools project has come to a close. 25 academics, professionals from educational institutions and public policy makers from Mexico, Colombia and Argentina discussed character education in secondary schools in Latin America at the Panamerican University (Campus Mexico).
Several entities contributed to its organization, including the Researching and Promoting Character Education in Latin American Secondary Schools project, the School of Education and Psychology, and the Institute for Culture and Society at the University of Navarra (Spain). The event received funding from the Templeton World Charity Foundation.
The second day of the workshop began with project members Angel Sobrino and Apolinar Varela presenting results from the first wave of Delphi questionnaires. Data was collected from 89 experts, professionals and educational administrators in Mexico, Colombia and Argentina, which helped the team to better understand the state of character education in these three Latin American countries.
The results revealed that the project highlights virtues that are not widely promoted in schools, although the specialists point out that character education should be promoted as a means to improve social coexistence and as an aid for reducing risky behaviors during adolescence.
Likewise, the experts surveyed supported intensifying family participation in schools to enhance character education. In terms of schools, the following difficulties emerged: educational legislation, curricular design (focused on content and skill development) and the role of teachers (precarious work, mass classrooms, lack of specific training, lack of materials, etc.)
In what followed, Juan Pablo Dabdoub, the project's research assistant, presented the fieldwork, in the form of six in-depth case studies, that will be developed. These case studies will explore how character education is promoted in different types of secondary schools, taking into account aspects such as differences in student outcomes, religious inspiration and funding.
A roundtable on best practices in character education was then held, with the participation of Antonio Benítez Coello from the Liceo Monterrey and Rodrigo Limón, Coordinator of the Education, Science and Culture area at ​​the Organization of Ibero-American States (Mexico office). Aurora Bernal, a project member, moderated the discussion.
Antonio Benítez mentioned four positive experiences, including promoting civic duty among students with respect for their country, its flag and its customs (to honor the flag, to commemorate important historical days, to maintain the traditions, etc.), encouraging contact with nature to increase awareness of the value and respect for all forms of life (farm schools), developing social service programs (visiting the elderly, the sick, marginalized communities, etc.), and creating parent-school partnerships to give parents tools to help them excel in their role.
For his part, Rodrigo Limón spoke about the Ibero-American Prize for Education in Human Rights OEI-Foundation SM Óscar Arnulfo Romero, which recognizes the work of educational institutions, NGOs and civil society that have acted in an exemplary way in the defense and promotion of human rights through education.
After the colloquium, María Teresa Nicolás, Academic Vice-rector of the Panamerican University (Campus Mexico), was in charge of closing out the day.
Noticias u Opiniones relacionadas is temporarily unavailable.