The University and Banco Santander renewed their agreement to promote scholarships, entrepreneurship and employability
The financial institution will contribute 1.4 million euros to the program that will benefit 280 undergraduate and graduate students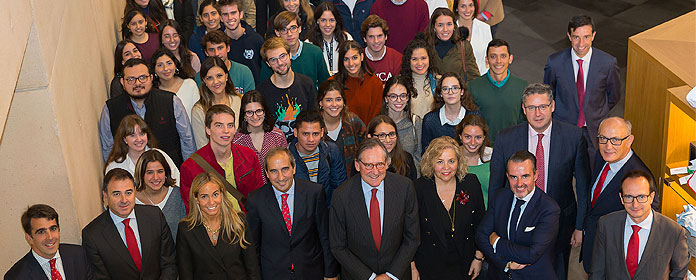 Some of the beneficiary students with the rector of the University, Alfonso Sánchez-Tabernero and the president of Santander Universities, Matías Rodriguez Inciarte.
FOTO: Manuel Castells
The University of Navarra and Banco Santander have renewed their collaboration agreement whereby they will continue promoting different scholarship programs for undergraduate and graduate students. The event was chaired by Alfonso Sánchez-Tabernero, rector of the University of Navarra, and Matías Rodríguez Inciarte, president of Santander Universities. A group of 30 scholarship students from the bank has also attended. In total there will be 280 undergraduate, master and doctoral students who will benefit from these initiatives, to which the financial institution will contribute 1.4 million euros.
The rector thanked "the generosity and commitment to talent" of Santander so that many students can study at the University of Navarra and considered that "the signing of this agreement is also a reflection of the commitment of two institutions with education, employability and entrepreneurship as essential factors for the development of society".
For his part, Rodríguez Inciarte highlighted the value of education: "We are very proud to jointly promote these projects that promote equal opportunities in education, university entrepreneurship and student employability, because in Santander we have the conviction that the great problems facing humanity will only have an answer from education and with that we intend to contribute to an inclusive and sustainable growth".
Anna Marie Chumbe, a Canadian student of Literature and Creative Writing, then intervened on behalf of the grantees to thank the bank for their generosity and said: "We hope that one day, thanks to the opportunity to study at the University of Navarra and the formation that they have transmitted to us, we can be equally generous to give others to live the same way that we are living".
In turn, the graduate student, María Pérez Araluce, also addressed the representatives of Banco Santander on behalf of her classmates: "I believe that the progress in my field of regenerative medicine is in the research. An investigation that helps to cure diseases and thanks to the Santander scholarship I can dedicate myself to it".
Banco Santander is the only European bank included in the 'Change the World' 2018 ranking of companies that are contributing to improving the world (Fortune magazine) for its positive impact on society, among other aspects. It was also distinguished as a company that invests most in Education in the world (Report Varkey / UNESCO / Fortune 500), with 1,200 collaboration agreements with universities and institutions in more than 20 countries and more than 1,700 million euros allocated to academic initiatives since 2002.