- - - - - - - - - - - - - - - - - - - - - - - - - - - - - - - -
Curriculum

El Máster en Filosofía "Realidad, conocimiento y acción" consta de 60 créditos europeos. La duración del programa es de un curso académico completo y su modalidad es semipresencial.
MODALIDAD: Parte online de octubre a diciembre, parte presencial de enero a abril y trabajo fin de máster (TFM) de mayo a junio, defendiendo el proyecto a finales de junio (dicha defensa se podrá llevar a cabo de forma presencial o de forma online)
FECHAS:
- Las clases online comienzan el lunes 1 de octubre de 2018 y terminan el viernes 21 de diciembre de 2018.
- Las clases presenciales comienzan el martes 8 de enero de 2019 y terminan el viernes 12 de abril de 2019 (con la excepción de la asignatura optativa "Bases antropológicas y éticas de la investigación en la universidad", que puede cursarse en diciembre o en mayo).
- El Trabajo de Fin de Máster puede prolongarse hasta final de junio de 2019 (primera convocatoria) o final de agosto de 2019 (segunda convocatoria). Puede defenderse tanto presencialmente como a distancia. Las fechas de las defensas se concretarán en su momento, según disponibilidad de los miembros del tribunal.
ESTRUCTURA: La estructura del Máster es la siguiente:
Module I: Methodological Module

A total of 6 ECTS credits must be chosen from the subjects in the two areas.
Module II: Fundamental Module

All subjects are required. However, in each area there are two subjects that are offered every year and others (known as seminars) whose content will vary from year to year.
Module III: Master's Thesis Project

Module III: Master's Thesis Project
Solicitud de información
General contact:
Campus Universitario s/n 31009 Pamplona España +34 948 425 600 | Ext. 802936

+34 630 200 875

mbobadilla@unav.es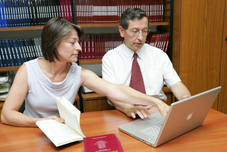 Topics relating to fundamental rights, gender equality, and the principles of equal opportunities and a democratic culture will be incorporated into the content of areas in a cross-disciplinary manner.

Such a perspective provides an understanding of the irreplaceable role of women and feminine values in the different aspects of family life and social organization that involve human relationships and the need to integrate their study into the study of human values.