Emotional culture and identity
La Universidad congrega a 350 expertos de 32 países en un congreso internacional sobre narrativa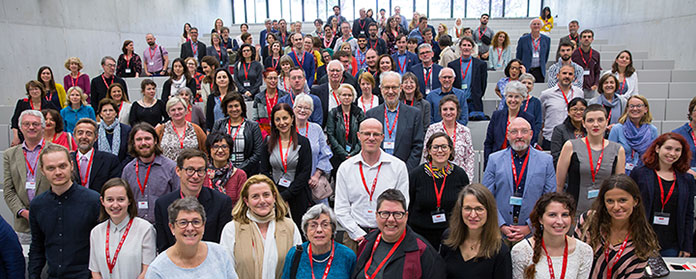 Imagen de grupo de los asistentes al congreso
FOTO: Manuel Castells
Más de 350 expertos de 32 países se dieron cita en la Universidad de Navarra para participar en el congreso internacional sobre narrativa "International Narrative Conference". El encuentro fue organizado por el International Society for the Study of Narrative (ISSN) y la Facultad de Filosofía y Letras, en colaboración con el Instituto Cultura y Sociedad (ICS) del centro académico.
Los ponentes, procedentes de universidades como la de Columbia, la Universidad de California, o la Universidad de York, entre otras, abordaron la narrativa desde perspectivas como el cine, los cómics, la televisión o incluso la narrativa en el ámbito de la medicina, la ecología o los videojuegos. Las conferencias centrales fueron impartidas por Rebecca Garden, de la Upstate Medical University de Nueva York, y Julie Rak, de la Universidad de Alberta en Canadá.
Rosalía Baena, decana de la Facultad de Filosofía y Letras y coordinadora del congreso, junto con las profesoras Rocío Davis y Anabel Martínez, señaló que "encuentros como este, que por primera vez se celebra en España, enriquecen la visibilidad de la oferta docente de la Universidad, como el grado en Literatura y Escritura Creativa, o el grado en Filología". "Han sido días de formación muy enriquecedores, enfocados en la buena literatura y en sus perspectivas de futuro", añadió.
El congreso también ha servido de marco para homenajear a Shlomith Rimmon-Kenan, profesora de la Universidad Hebrea de Jerusalén y experta en la narrativa de diversas disciplinas, como el psicoanálisis, la historiografía o el derecho.
Este congreso es una iniciativa de la Sociedad Internacional para el Estudio de la Narrativa, una asociación sin ánimo de lucro, dedicada a la investigación, que cuenta actualmente con un millar de miembros. La primera conferencia tuvo lugar en la Universidad Estatal de Ohio en 1986 y, desde entonces, de forma anual, se ha celebrado en diversas zonas de Estados Unidos, Canadá y Europa. La Universidad Estatal de MIssissippi en Nueva Orleans será la próxima sede del congreso, en 2020.
Contact: Main Library
Campus s/n 31009 Pamplona Spain Tfn: +34 948 425 615 ics@unav.es