La Universidad, primera de España y octava de Europa en docencia según el último "Times Higher Education Ranking"
Se trata de un ranking a nivel europeo en el que la institución destaca por la relación que tiene con sus alumnos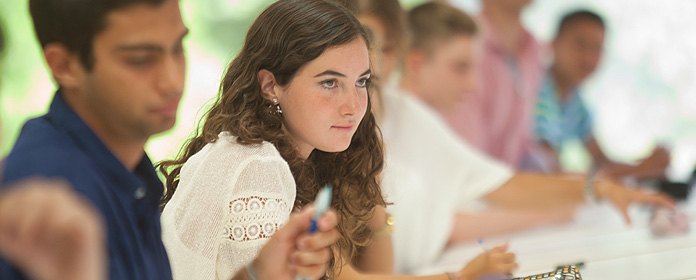 Según el último ranking de Times Higher Education (THE), la Universidad de Navarra es la primera a nivel nacional y octava en Europa en docencia. THE subraya la relación que tienen los profesores con sus alumnos y la formación que imparten.
La Universidad se encuentra en el octavo puesto del ranking de universidades europeas por detrás de siete universidades británicas y una francesa: University of Oxford (1), University of Cambridge (2), Sorbonne University (3), University of Warwick (4), UCL (5), University of Bristol (6) y University of Manchester (7).
El Times Higher Education Europe Teaching Ranking ha recogido información a partir de entrevistas realizadas a los estudiantes de las instituciones. En el caso de la Universidad de Navarra, sus alumnos han valorado con un 8.1 el modo en el que el centro académico fomenta el pensamiento crítico. En lo que se refiere a la aplicación que hacen los jóvenes de los conocimientos obtenidos durante la carrera en el mundo real, THE ha otorgado un 8.2 a la Universidad de Navarra.
Asimismo, la Universidad ha logrado una puntuación de 8.8 cuando se les ha preguntado a los alumnos si la Universidad de Navarra es eficiente a la hora de ayudar a conseguir prácticas que les preparen profesionalmente.
Por otro lado, la Universidad de Navarra ha alcanzado 8.9 puntos cuando los estudiantes han valorado la calidad del entorno académico que ofrece el centro (zonas de trabajo, laboratorios, etc.).
El ranking evalúa universidades que ofrecen grados oficialmente reconocidos, centrados en más de un área determinada y que cuenta al menos con 5.000 estudiantes matriculados. Además, para poder realizar el ranking Times Higher Education Europe utiliza información de las páginas webs de las universidades y de la base de datos Elsevier, entre otras.
Si quiere más información puede consular la página web del ranking.
| | |
| --- | --- |
| 1 | University of Oxford (Reino Unido) |
| 2 | University of Cambridge (Reino Unido) |
| 3 | Sorbonne University (Francia) |
| 4 | University of Warwick (Reino Unido) |
| 5 | UCL (Reino Unido) |
| 6 | University of Bristol (Reino Unido) |
| 7 | University of Manchester (Reino Unido) |
| 8 | Universidad de Navarra (España) |
| =9 | Newcastle University (Reino Unido) |
| =9 | University of York (Reino Unido) |
| =11 | Imperial College London (Reino Unido) |
| =11 | University of Sheffield (Reino Unido) |