Reserving the hand-held scanner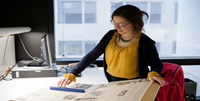 The Newspaper / Media Room is equipped with a hand-held scanner for digitalizing materials.
Features
Scans in black and white or in color.

Scanned images may be viewed on the computers in the room with ReadIRIS image-processing software and the XnView driver installed (ask library personnel). See manual.
Conditions of use and reservations
For preservation reasons, bound newspapers, magazines and journals may not be photocopied.

Self-service scanning is provided free of charge.

The scanner may be reserved at the Newspaper / Media Room counter. Anyone who wishes to use the scanner must leave a form of identification, which will be returned once the scanning is complete.

Whoever makes the reservation is responsible for proper use of the scanner. In the event that materials are damaged, whoever made the reservation will bear repair costs.
If you notice any problem, please inform the Newspaper / Media Room personnel.
Contact: University of Navarre. Main Library, Ground floor. 31009 Pamplona Spain +34 948 425 600 (Ext. 802016) bibhumhem@unav.es