Newspaper / Media Room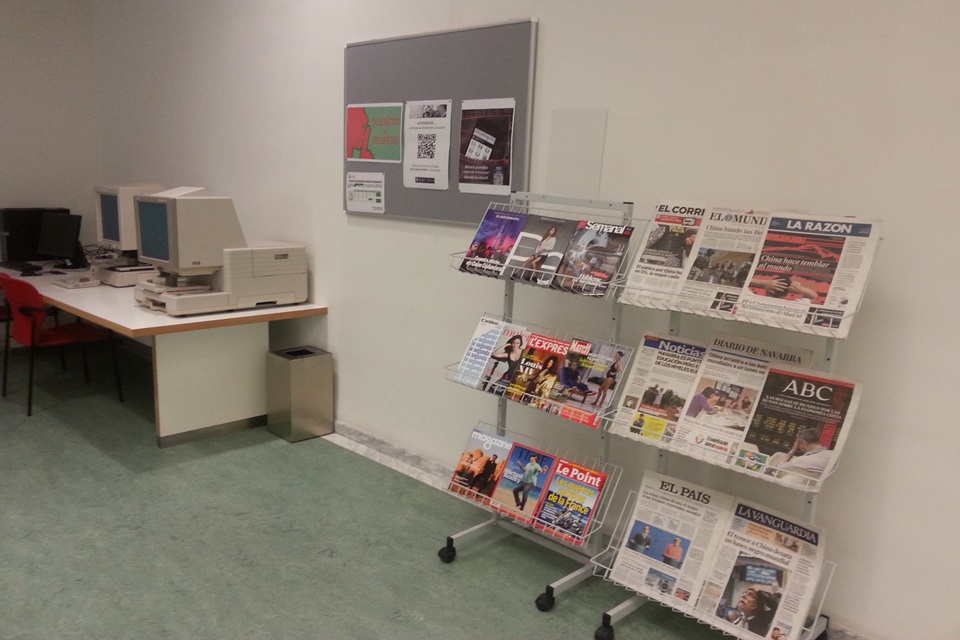 In the Newspaper / Media room you will find print, digital, online and microfilm materials, as well as provincial, national, international, sports and economic databases.
In addition to a large collection of audiovisual, non-library material and digital documents in different formats. It mainly consists of documentary films in fields like history, art, communication, education, the environment, nature and religion; various musical genres including classical, jazz, world music and pop; CDs and network databases; theses, old monographs and periodicals in microform. We also have some especially valuable collections.
The Newspaper / Media room is equipped with computers that may be used to consult library resources, work on projects, check email or make requests through the catalogue. The room also has devices for reproducing a range of media: CD, DVD, DVD-Rom, VHS, cassette, vinyl, microform, etc. We also have a scanner that reads and digitalizes microform materials, document reproduction machines (photocopiers, printers and scanner) and a hand-held scanner for print material.
The room has an area reserved for the consultation of the daily press and a third area intended for the consultation on press material from the Storage Library.
Contact: University of Navarre. Main Library, Ground floor. 31009 Pamplona Spain +34 948 425 600 (Ext. 802016) bibhumhem@unav.es
Contact: University of Navarre. Main Library, Ground floor. 31009 Pamplona Spain +34 948 425 600 (Ext. 802055) bibhummed@unav.es