Ramón Salaverría, nuevo vicedecano de Investigación de la Facultad de Comunicación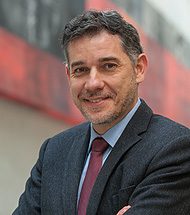 El profesor Ramón Salaverría Aliaga ha sido nombrado vicedecano de Investigación de la Facultad de Comunicación por el Rector de la Universidad, Alfonso Sánchez-Tabernero. Ramón Salaverría es profesor titular del departamento de Proyectos Periodísticos y director del Center for Internet Studies and Digital Life.
El profesor Salaverría es licenciado en Periodismo (1993) y doctor en Comunicación (1998) por la Universidad de Navarra, y está especializado en la investigación sobre ciberperiodismo y medios digitales. Ha sido incluido en el directorio Global Experts de la ONU, que selecciona a 350 especialistas mundiales en distintos temas.
Durante el curso 2014-15, fue visiting scholar en el Digital Media Research Program de la University of Texas — Austin (USA). Durante el bienio 2010-12, fue chair de la Journalism Studies Section de ECREA (European Communication Research and Education Association). Anteriormente, fue vice-chair de esa Sección en los bienios 2006-08 y 2008-2010. Representando a ECREA, desde 2011 también es miembro del World Journalism Education Council. Cuenta con amplia experiencia como director e investigador en varios proyectos de investigación nacionales e internacionales, siempre centrados en nuevos medios.