Presentation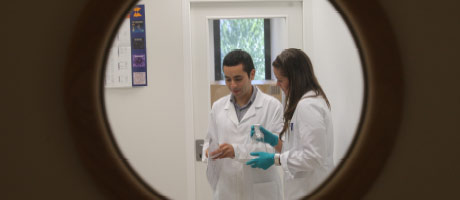 The Master's Degree in Drug Research, Development and Innovation (MIDI: Spanish acronym) is an official master's degree (Ref. MO2006-00952), which fulfills the requirements of Appendix I of RD 1393/2007, modified by RD 861/2010 which regulates official university education and has been positively evaluated by the VERIFICA program of the National Agency for Quality Assessment and Accreditation (ANECA).
The need to train highly qualified professionals to work at pharmaceutical companies has driven us to develop this professional master's degree program, which has been offered for more than 25 years and boasts more than 400 graduates. Each year, the program brings together a small group of students (30 maximum) from varied academic backgrounds and different geographic origins; these students devote their best efforts to their work in the classroom, in the laboratory and in seminars, all within the atmosphere of trust and communication that is so characteristic of the University of Navarra.
It is associated with the University of Navarra's Medicines and Health doctoral program.
Chosen as the best master's degree program in Spain for this field for eleven consecutive years, according to the ranking created by the newspaper "El Mundo" newspaper.
100% employment rate within the first six months after completing the program

Chosen as the best master's degree program in Spain for this field for twelve consecutive years, according to "El Mundo" newspaper.

more than 25 graduating classes vouch for this graduate program