Presentation
Communication is no longer an accessory tool, but has become a strategic element for companies and institutions.
More than ever, professionals need comprehensive, specialized training that requires serious preparation and deep thought, as a result of this new challenge.
The Master's Degree in Political and Corporate Communication (MCPC: Spanish acronym) taught at the University of Navarra's School of Communication offers the perfect opportunity to receive this professional training. In order to achieve this goal, the program has:
A team of top-level university professors and active professionals.

Physical facilities with considerable resources (classrooms, seminar rooms, libraries, etc.) for research and in-depth study of the topics covered by the program.

A work method based on interactivity and participation, the development of real communication projects in groups, and special sessions with visiting professionals in the industry.

The completion of part of the program at the prestigious Graduate School of Political Management (GSPM) of George Washington University in the United States.

An Advisory Committee made up of renowned professionals who will offer suggestions on how to adapt the program and its activities to the demands and trends of the market.
Open to a maximum of 25 students each academic year, the intensive nature of the program demands students' exclusive commitment throughout the 10 months in which it is undertaken.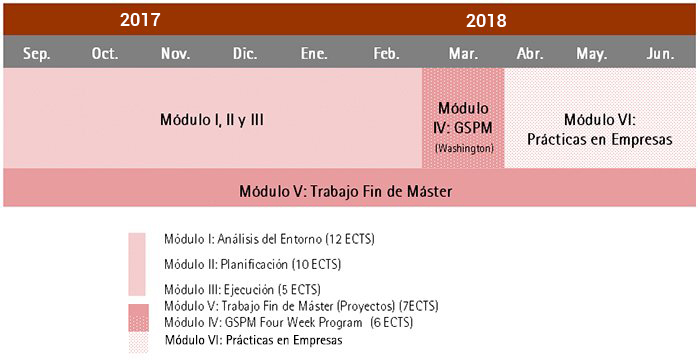 Los títulos oficiales, como este, han sido verificados por el Consejo de Universidades y sometidos a los procesos de seguimiento y acreditación establecidos por la legislación. En estos procesos se evalúa y aprueba la Memoria del título que es el documento en el que se recoge toda la información relevante de su planificación.
Tanto la memoria como los informes emitidos en los distintos procesos se enlazan a continuación:
La garantía de calidad de la titulación se lleva a cabo a través del Sistema de Garantía Interna de Calidad (SGIC). Los procesos que integran el SGIC permiten realizar el seguimiento del título para garantizar la mejora continua en la titulación, asegurando que los alumnos adquieren los conocimientos y competencias previstas en el título que han cursado.
La Comisión de Garantía de Calidad del Centro es la responsable de coordinar y realizar el seguimiento de cada uno de los procesos. Está formada por uno o dos representantes de la Junta directiva del Centro, un representante de la Comisión de Evaluación de la Calidad y Acreditación de la Universidad, profesores, alumnos y personal de apoyo a la docencia. La CGC se reúne al menos 3 veces durante el curso académico.
Los resultados de los diferentes procesos de cada curso académico son recogidos y analizados en la Memoria de Análisis de Resultados. Este documento se elabora tras finalizar cada curso y en él se fijan las propuestas de mejora del título, así como el periodo previsto para realizarlas y las personas responsables de su implantación y seguimiento.
Buzón de sugerencias: secretariafcom@unav.es
Indicadores
Los siguientes valores han sido proporcionados por el Sistema Integrado de Información Universitario (SIIU), plataforma desarrollada por la Secretaría General de Universidades.
| | | | |
| --- | --- | --- | --- |
| Curso | Tasa de rendimiento | Tasa de éxito | Tasa de evaluación |
| 10-11 | 100,00 % | 100,00 % | 100,00 % |
| 11-12 | 100,00 % | 100,00 % | 100,00 % |
| 12-13 | 100,00 % | 100,00 % | 100,00 % |
| 13-14 | 100,00 % | 100,00 % | 100,00 % |
| 14-15 | 100,00 % | 100,00 % | 100,00 % |
| 15-16 | 100,00 % | 100,00 % | 100,00 % |
| 16-17 | 100,00 % | 100,00 % | 100,00 % |

Tasa de Rendimiento: Relación porcentual entre el número de créditos aprobados por los estudiantes matriculados en un curso académico y el número total de créditos matriculados en dicho curso académico
Tasa de Éxito: Relación porcentual entre el número de créditos aprobados por los estudiantes matriculados en un curso y el número total de créditos presentados a examen en dicho curso académico
Tasa de Evaluación: Relación porcentual entre el número de créditos presentados a examen por los estudiantes en un curso académico y el número total de créditos matriculados en dicho curso académico