Hacer historia en la lucha contra el cáncer de hígado
Amaia Lujambio (Bio 05), estudia cómo abordar el carcinoma hepatocelular, uno de los más letales, en el Hospital Mount Sinai, de Nueva York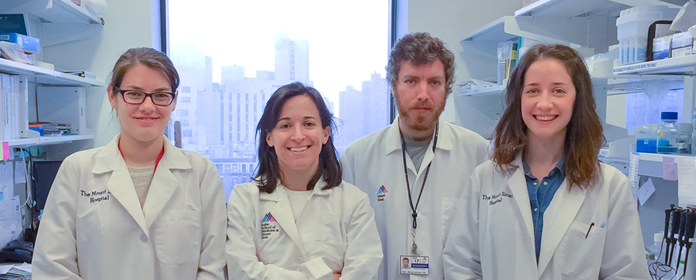 Amaia Lujambio (segunda por la izquierda) junto al equipo de investigadores del hospital Mount Sinai de Nueva York y a la derecha, Marina Ruiz de Galarreta (Bio 08 Bioq 09 y MIB 10).
FOTO: Cedida
Amaia Lujambio (Bio 05) estudia, desde hace más de dos años, la efectividad de una nueva droga en el tratamiento del carcinoma hepatocelular, uno de los tipos tumorales más agresivos, en el Icahn School of Medicine del hospital Mount Sinai, en Nueva York.
A sus 34 años, esta graduada en Biología por la Universidad de Navarra lleva ya más de siete investigando en EE.UU, primero en el Cold Spring Harbor Laboratory y después en el Memorial Sloan Kettering Cancer Center, tratando de encontrar nuevos modos de abordar el cáncer.
Precisamente su último trabajo en la Facultad de Medicina de Mount Sinai ha puesto el foco en el carcinoma hepatocelular, que apenas cuenta con opciones terapéuticas para los pacientes en estadios avanzados, "de ahí la importancia de encontrar nuevas estrategias", detalla la joven científica. "En este trabajo, publicado en Gut", continúa, "hemos testado una droga nueva, Palbociclib, que es un inhibidor del ciclo celular y que está aprobada ya para el tratamiento del cáncer de mama. Los resultados en cáncer de mama avanzado son muy prometedores y su toxicidad es baja, por eso decidimos testarlo en modelos preclínicos de carcinoma hepatocelular".
Un tratamiento para el 70% de los enfermos
En el mismo laboratorio que Amaia realiza su posdoc otra graduada de la Facultad de Ciencias, Marina Ruiz de Galarreta (Bio 08 Bioq 09 y MIB 10), quien también se doctoró en la Universidad de Navarra antes de continuar su carrera en el Mount Sinai.
Según la antigua alumna de la Facultad de Ciencias de la Universidad de Navarra, los resultados apuntan a que el Palbociclib "es muy efectivo en los modelos, excepto en los casos que presentan una alteración genética en el gen Retinoblastoma, que es un 'gen supresor de tumores'. En estos casos, las personas portadoras no responden al tratamiento". "No obstante", añade, "según los estudios computacionales el nuevo tratamiento se podría aplicar al menos al 70% de los pacientes con este cáncer de hígado y, especialmente, a aquellos que no responden al tratamiento convencional de Sorafenib, o que no lo toleran debido a su toxicidad".
En la actualidad el equipo que lidera Lujambio (y que está formado principalmente por investigadores españoles) sigue realizando experimentos adicionales necesarios antes de dar el salto a la prueba en pacientes. "En estos hallazgos debemos ser especialmente precavidos y no dejar de mencionar que se trata de resultados muy prometedores, pero todavía preliminares", advierte la científica navarra. El primer autor del trabajo publicado, Julien Bollard, se encuentra ahora en Lyon estudiando tumores neuroendocrinos.
En 2015 Amaia Lujambio recibió el AASLD Pinnacle Research Award in Liver Diseases, otorgado por la Asociación Americana de Enfermedades Hepáticas para dar soporte a su trabajo de investigación mediante una beca de tres años de duración.
Research
Centers
The Center for Applied Medical Research (CIMA) and the Institute of Culture and Society (ICS) are some examples of centers that carry out research work. See Departments and Centers
Campus of International Excellence
Innovation in teaching, interdisciplinarity, internationality and social involvement.
Doctoral School
Responsible for the coordination, planning and yearly monitoring of the doctoral programs.