Murchante se mueve en favor de la investigación contra el cáncer
Más de 1.400 personas se han inscrito en una carrera solidaria que se celebrará el domingo 2 de abril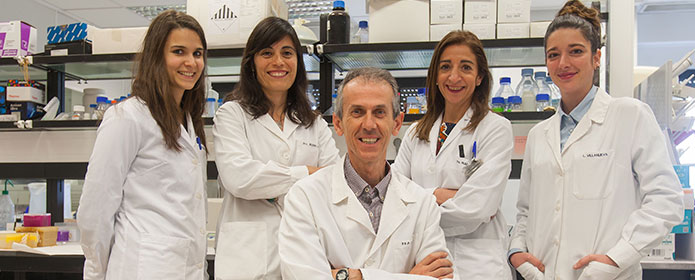 Tamara Iglesias, Diana Llópiz, el Dr. Pablo Sarobe, Marta Ruiz y Lorea Villanueva, en su laboratorio del CIMA de la Universidad de Navarra.
FOTO: Manuel Castells
El próximo domingo 2 de abril se va a celebrar una carrera solidaria en Murchante en favor de la investigación contra el cáncer. El acto está organizado por el Club Patín de Murchante, la Asociación de Mujeres Albahaca y el Ayuntamiento de la localidad y cuenta con la colaboración de más de 120 empresas, establecimientos y clubes deportivos de Murchante y distintas localidades riberas. "Esta iniciativa surge con el objetivo de colaborar en la luchar contra el cáncer. Nos hemos sorprendido muy gratamente de la gran sensibilidad y colaboración de todo el mundo. Gracias a ellos este proyecto ha salido adelante", explica Virginia Salcedo, organizadora del evento.
El plazo de inscripción finalizó el pasado 20 de marzo con más de 1.400 participantes. Los fondos recaudados (5 euros por inscripción) irán destinados a un proyecto de vacunas contra el cáncer que se desarrolla en el Centro de Investigación Médica Aplicada (CIMA) de la Universidad de Navarra. "Nuestro trabajo tiene como objetivo desarrollar una vacuna que, sola o en combinación con otros tratamientos ya existentes en la actualidad, potencie la inmunidad frente al cáncer, de modo que nuestro organismo reconozca a las células tumorales y sea capaz de destruirlas y así combatir la enfermedad", explica el Dr. Pablo Sarobe, investigador responsable del proyecto.
Tres modalidades
Según explican los organizadores, "los participantes pueden realizar la marcha patinando, corriendo o andando. Los más atrevidos incluso pueden compaginar las tres modalidades". Según el nivel de cada participante se han establecido los siguientes horarios:
10 h: Patines, nivel iniciación.
10.30 h: Carrera, nivel iniciación.
11 h: Patines, nivel avanzado.
11.45 h: Carrera, nivel avanzado.
12.30 h: Prueba de 5 km por el recién inaugurado "Circuito Urbano de la localidad".
Además de las pruebas deportivas, a lo largo de la mañana se celebrarán diferentes actividades, como hinchables y pinta-caras para los más pequeños, así como un sorteo solidario de regalos donados por los colaboradores. "Por otra parte, se podrán degustar productos típicos de la zona a un precio solidario, como migas, tostadas y chistorra, además de pastas elaboradas por la comunidad islámica de Murchante", explican los organizadores.
Research
Centers
The Center for Applied Medical Research (CIMA) and the Institute of Culture and Society (ICS) are some examples of centers that carry out research work. See Departments and Centers
Campus of International Excellence
Innovation in teaching, interdisciplinarity, internationality and social involvement.
Doctoral School
Responsible for the coordination, planning and yearly monitoring of the doctoral programs.